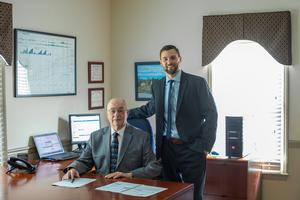 Senior Financial Advisor & Investment Advisor
Dave Arthur, Senior Financial Advisor,  has spent 38 years helping clients develop and implement their financial strategies.  Dave founded Investors Financial Advisors in 1997.  He was previously a Financial Advisor and District Manager with IDS and its successor organization, American Express Financial Services.
Earlier in his career, he taught High School before going into business for himself where he owned and operated retail businesses in Coleman Falls, Glasgow, and Big Island VA.  
Dave earned a B.A. in History and Physical Education at  Lynchburg  College.  He and his wife Mollie have raised three sons and enjoy spending time with their 7 grandchildren. 
Robbie Arthur has been an Investment Advisor for over 6 years as partner with Dave Arthur.  He earned a B.A. in Agriculture Economics in 2009 from Virginia Tech.  Robbie was a Verizon manager and trainer over 5 locations in Southwest VA.  He attended graduate courses in Local Goverment Management at Virginia Tech and currently is on the Board of Zoning Appeals in Roanoke County.  Robbie is also an experienced investor in real estate and rental properties.  Robbie and his wife, Lauren have 3 beautiful children.   Robbie and Lauren enjoy running their small farm on the side, teaching their children the importance of hard work and sustainablity. 
Mobile Phone
(540)613-1936